Jon Azua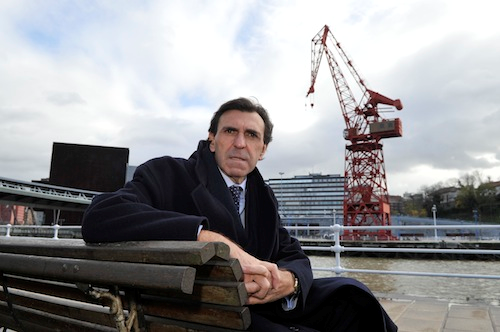 Jon AZUA is the President and founder of Enovating Lab (2003).
Born in Bilbao, he graduated in Industrial Engineering from the Universities of Anáhuac and UNAM (Mexico) and the Basque Country (the ETSIIT in Bilbao). He obtained a master's degree in Economics and Business Administration (MBA) from the University of Navarre (IESE-Barcelona) and a PhD (Doctorate in Business & Public Administration) from the Lasalle University in the USA.
Member of the Board and the Steering Committee of Keralty Group (www.keralty.com), Senior Vice-president and Global Chief Strategy Officer.
He is currently member of the executive committees of the following organizations:
Professor and researcher of the MOC Network Leadership Team (Institute for Strategy and Competitiveness, Harvard University - www.isc.hbs.edu) and the Basque Competitiveness Institute-Orkestra of University of Deusto (www.orkestra.deusto.es), member of the Competitiveness Advisory Group of the World Economic Forum (www.weforum.org), Honorary Advisor of SINTONÍA - México (www.sintonia.mx) and Basque Competitiveness Institute-Orkestra.
Jon Azua - Enovatinglab is part of Consulting Affiliate Network in Shared Value Initiative (www.sharedvalue.org)
Professional references
Business career
Senior Vice-president and Global Chief Strategy Officer in Keralty Group (since 2018)
Senior Vice-president of Strategy and Knowledge of O.S.I. (2015-2018)
Vice-president of FENIX Group (2011-2016)
Executive vice-president of the Guascor-Dresser Rand Group (2008-2012)
Associate Director of Strategy and Industry of Public Services for the EMEIA region and its offices in Bilbao, in the Andersen and BearingPoint firms (1996-2003)
Board member and General Director of the Bilbao Stock Exchange and Bilbao Plaza Financiera (1988-1991)
Strategy, Competitiveness, Regional Development and Business & Government Consulting (since 1996). Advice to companies, Governments, international institutions and NON for PROFIT.
External Professional Advisor of multiple companies and organizations (from 2006): TRADEBE Group, ORKESTRA- Basque Institute of Competitiveness, ORACLE-IBERIA, IMQ Group, FENIX Group, CENTAURO Group, etc.
Academic history
Chairman of the Board of Directors of Unisanitas (2014-2019)
Promoter-founder and President of the Advisory Council of the Basque Competitiveness Institute-ORKESTRA (2003-2011)
Director of the Basque Competitiveness Chair in CEIBS (Shanghai) (2008-2010)
International advisor of the Competitiveness and Strategy Chair of the ITESM in Mexico (2002-2007)
Member of the Advisory Council of Sintonía (UPAEP-Mexico) (since 2012)
Participation in multiple research projects (of Enovatinglab and/or collaborative with third parties).
Institutional career
Vicelehendakari (Vice-president) and Minister of Industry and Energy of the Basque Government (1991-1995)
Minister-Secretary of the Presidency (1987-1988)
Minister of Employment, Health and Social Security and President of OSAKIDETZA (Basque Health Service. 1985-1987)
Provincial Minister for the Economic Promotion and Development of Bizkaia (1983-1985)
Director of Economic Planning and Management (Department of Transport, Communications and Maritime Affairs. 1980-1982)
Distinctions
Eisenhower Fellowship & World Wide Leadership Award (1998)
MOC-ISC Affiliate Network Hall of Fame. Harvard University (2012)
Honorary Advisor of SINTONÍA-UPEP, México (2012)
IVC-ORKESTRA: Leading Competitiveness Impact (2013)
Honorary Consul of Bilbao (2014)
Honorary Advisor of the Basque Competitiveness Institute-Orkestra, University of Deusto (2019)
For more information, you can see further details of this CV in a PDF version: